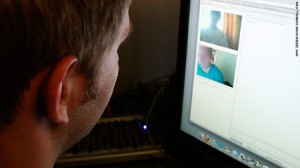 First off, have you heard of ChatRoulette.com? If not, brace yourself because you're in for one crazy ride.
ChatRoulette.com was created by Andrey Ternovskiy, a 17-year-old high school student in Moscow, Russia. He got the idea from messing around on video chats onSkype and then created the program in less than three days.
He got the name ChatRoulette after watching The Deer Hunter, a 1978 film set in the Vietnam War in which prisoners of war are forced to play Russian roulette.
Unlike most new websites, ChatRoulette.com took off quickly and once South Park aired a parody of it on season 14 episode "You Have 0 Friends" it became huge.
But with it's new found popularity also came…well, a bunch of dicks!
No seriously, the odds were like one in ten that you were going to meet someone who wasn't jerking it.
But now there is hope. With a new system in place that works when three users have complained about the same participant within five minutes, that user is then banned from the service for 10–40 minutes.
So this hopefully will get rid of all the dicks, but not all the awesomeness!
Below are some crazy videos showing you how creative people can be on ChatRoulette…Enjoy! Also, if you have tried out ChatRoulette before and have a crazy moment to share, don't be shy, comment below.
Piano Improv With Live Audience – (Click here

for part 2)