Indiegogo.com is the world's leading international funding platform, helping people create campaigns and fund ideas since 2008.There are over 18,000 campaigns on IndieGoGo and now The Road Bandit Project is one of them.
So what is crowd funding and why did I choose Indiegogo.com for my campaign?
Crowd funding (sometimes called crowd financing or crowd sourced capital) describes the collective cooperation, attention and trust by people who network and pool their money and other resources together, usually via the Internet, to support efforts initiated by other people or organizations. Crowd funding occurs for any variety of purposes, from disaster relief to citizen journalism to artists seeking support from fans, to political campaigns, to funding a start up company or small business or creating free software.
IndieGoGo was my choice over other similar crowd funding sites out there like Kickstarter.com because if you don't meet your funding goal, you still keep the money you raise with your campaign. IndieGoGo charges a 9% fee on campaigns with unmet funding goals and only 4% on campaigns that meet their funding goals. Kickstarter.com however, doesn't give you anything if you don't meet your goal.
So lets talk about What's In It For You! With each crowd funding campaign there are incentives that come with each level of donation.
These are the incentives for the Road Bandit crowd funding campaign.
For a minimum of $10 you get to be listed on the Road Bandit website as a supporter and forever will be known as nice person in the eyes of myself and all those who come to RoadBandit.com

Like Rob Schneider in the movie The Water Boy you wanna scream You Can Do It! You see great things happening for the Road Bandit Project and you're not shy about letting it be know. For your support, you'll receive an awesome one of a kind Road Bandit t-shirt.

You have the power to make things happen and you're not afraid to show it. With this donation you'll receive a copy of the first season of Road Bandit on DVD. This DVD will be loaded with extra footage and unique never uploaded videos.

Ok so now we are moving up to the big donations where your donations not only make me do my "happy dance" but also will get your name and/or organization a shout out on RoadBandit.com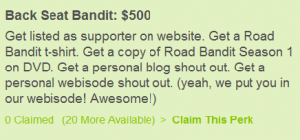 Welcome to the show! With this donation you will be forever immortalized as a participant in the one and only Road Bandit show. Get ready to get involved because I plan on showing the world how awesome you are during one of our weekly webisodes.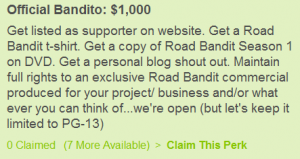 Lights… Action… Bandito! Welcome to the club and because you've donated towards my project its only fair I donate my time and skills towards yours. Lets work together and produce an exclusive Road Bandit commercial that you'll have exclusive rights to and if your video has the right message we will even feature it on a weekly webisode.
Since the beginning of the project Road Bandit has relied entirely on the funding from freelance production work. We have invested every dollar we have to build the successes we've shared so far, and now Road Bandit is ready to go to the next level. With the next level comes sustainable production costs. In addition to this effort on IndieGoGo, we are seeking funding from foundations and individuals. We are appealing to you for a donation in any amount to help us keep Road Bandit road bound and help see the project through it's first official full season, set to commence on March 1, 2011.

SPREAD THE WORD!!! If you ain't got the funds to donate but would love to still help out, tell your friends, family and all those internet friends we chat with daily on Twitter and Facebook. Also If you would like to become an Official Promoter of Road Bandit please contact me at Contact@roadbandit.com