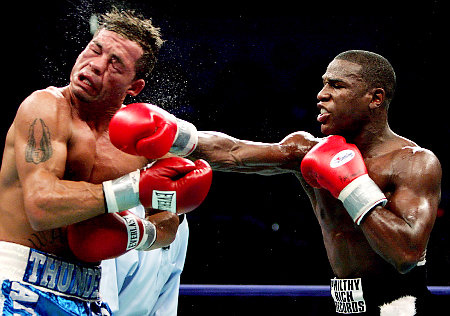 Two nights ago I was hired to run audio for a live interview for HBO Sports. The interview was at Floyd Mayweather Jr's home in Las Vegas.  We were only going to be on-air for about four minutes but had to show up there six hours before the hit time.  Let me tell ya being the undefeated welterweight champion of the world allows you to have one badass house.

So first off, I gotta thank Robert from CoverEdge for hurting his back lifting some equipment on the job,  allowing me to get crewed for this shoot. Thanks Robert, hope that back starts working again soon, well after I get a least a couple more gigs:)
When we arrived at Floyd Mayweather Jr's  house we walked up the awesome yard and knocked on the door. A beautiful women opened the  door, she took a look at the three person HBO crew and asked " Are you guys here to fix the dish washer?" We all looked at eachother and smiled.  So the best part about Floyd's house was the two story theater he had built into his home. Floyd invited us into the theater to sit and enjoy the replay of his previous fight.  I gotta say it was pretty crazy to watch a boxing match in a two story theater with one of the boxers  sitting right there giving ya the play by play. Thanks again Floyd for letting us chill at your place and thanks again Robert for hurting your back while on the job. Enjoy that workers comp and remember folks…Lift with your legs.